Ferenbaugh's Facilities are one of a kind!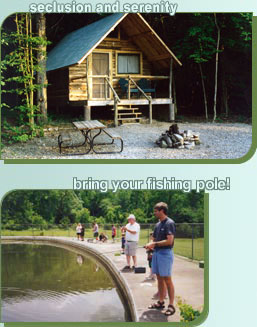 115 wooded and 30 pull-thru Campsites.
Pull-Thru Sites.
20/30/50 amp Electric Service.
Water, Sewer and Cable TV.
Large Handcrafted Rental Cabins!
We also have Tent Sites!
Miniature Golf Course.
Bathrooms / Showers.
We pride ourselves on our clean rest rooms!
Playground, Hiking, Badminton, Volley Ball.
Pets are welcome!
Large Game Room.
With Ping-Pong, Pool Tables, Video and Pinball Games.
Pay Phones available.
Metered Propane.
Convenience Store.
Ice, Ice Cream, Candy and more!
Firewood for sale.
Easy to find.
Post Creek, a 40 ft. wide trout stream.
Free WiFi at most sites.
Camping Rates
Rates are based on 2 adults and your dependant children.
Rates are an additional $5-$10 per night for Holidays and Race Weekend.
Camping Rates
5/01/23 - 10/25/23
Nightly Rate Excludes Holiday Weekends, NASCAR Race Weekend, Jamboree, and Labor Day Weekend

Holiday/ NASCAR Race Weekend Rates 3 Night Minimum Jamboree Weekend 2 night minimum
Basic - No Utilities
$34.00
$44.00/night
20amp E&W
$39.00
$49.00/night
30amp E&W
$49.00
$59.00/night
30amp E, W, sewer, cable
$64.00
$74.00/night
50amp E,W, Sewer, cable
$69.00
$79.00/night
Cabin 1 (6)
$80.00
$90.00/night
Cabin 2 (4)
$75.00
$85.00/night
Cabin 3 (2)
$55.00
$65.00/night
Cabin 5 (2)
$75.00
$85.00/night
Cable TV - $4.00 per night available at all full hookup sites with Spectrum provided DTA. (over 80 channels)
WEEKLY SPECIAL- STAY 6 NIGHTS GET THE 7TH FREE of equal or lesser value, no other discounts apply.
MONTHLY SPECIAL – Pay for three weeks in advance and get the 4th week free -no other discounts apply.
Free Wi-Fi – We have four separate Wi-Fi services/hotspots. Wi-Fi is not guaranteed at every site.
Camper or Boat Storage- off site $10 per night (Must be a registered camper)
Pavilion Rental for registered campers- $75 for 2 hours plus visitor fees based on availability.
- All Rates are based on 2 adults and up to 4 dependent children or 2 adults & 2 children.
Visitor & Overnight Fees apply. 1 camper & 1 tent per site or 2 tents per site.
- Day visitors $5 /person, $3/child 17 & under. Age 5 and under are free (Must be out by 9pm or pay for overnight)
Extra guests overnight $10/person, $5/child 17 & under. Age 5 and under free
Campsites - Check-In Time: 2:00 PM & Check-Out Time: 1:00 PM (Cabin Check-In Time 3:00pm)
Cabin 1 (The Savannah Cabin)* Cabin 2(The Serenity Cabin) * Cabin 3 (The Gypsy Wagon) & Cabin 5 (The Cabin) Our cabins do not have bathrooms or kitchenettes. All Cabins have a mini fridge, coffee maker or Keurig and cable television, an outside picnic table, fire ring and charcoal grill. Cabin 1, 2 and 5 have microwave ovens. You must supply your own bedding and cookware. There is a 2 night minimum on weekends for all cabins.
- Deposits - All reservations must be held with a valid credit card. All reservations made for holiday or race week must be paid in full 30 days prior to arrival.
- Cancellations must be made 14 days in advance for a refund of your deposit, less $15.00 cancelation fee - Cancellations made less than 14 days in advance will be charged for the first night of the reservation.
If you do not cancel your reservation or if you are a no show, you will be charged for your full reservation.
- Holidays, Event, and race week THREE NIGHT MINIMUM & reservations are non-refundable for any reason.
Our cabins do not have bathrooms or kitchenettes. Cabin 1 and 2 do have a mini fridge. They also have interior electrical outlets. You must supply your own bedding and cookware.
Check-Out Time: 1:00 PM
Check-In Time: 2:00 PM